When it comes to machines in a series, sometimes the "What's the Difference?" question can get a little fickle. For the Bernette 60 series, which includes the Bernette 62 Airlock, Bernette 64 Airlock, and Bernette 68 Airlock, you might be wondering how much of a difference there can be in three machines that are all so great. But each holds a different specialty and at least one feature that is unique to that model, so that our customers can get what they need out of the machine they invest in! WARNING: Lot's of information-packed bullet points ahead!
Every model comes with a loaded baseline of premium functions, and each machine has:
Automatic air threader for looper threads
Freearm with freearm cover
Color-coded threading paths
Stitch length adjustable while sewing
Accessories under the looper cover
Sewing light (5 LEDs)
Safety switch activated when cover is open
Free Hand System (FHS) including knee lifter
Space to the right of the needle (130 mm)
Deco thread guide
Slide-on table
Cut-offs bin
Manual thread cutter
Maximum sewing speed (stitches per minute) of 1,300 stitches
Bernette 62 Airlock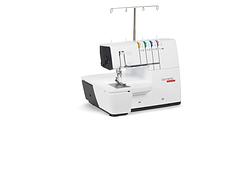 As the coverstitch specialty machine of the 60 series, the Bernette 62 Airlock is perfect for easy, professional cover-stitches on an extensive list of different fabrics and projects, which - and this is the best feature of all - includes the ever-difficult stretchy and elastic-type fabrics that you might struggle to hem!
Along with the features listed above included in every machine and the ones shared with only one other machine in the series, the 62 Airlock has unique features that aren't included in the other machines, and those are:
Standard coverstitch foot
7 stitch patterns
Some features, however, are shared between only two of the three machines, so in addition to all the features you get in every machine and the unique features in only the 62 model, the 62 and 68 models have:
4-thread coverstitch
3-thread coverstitch (wide/narrow)
2-thread chainstitch
Coverstitch width 2,8 / 5,6 mm
Coverstitch insert for slide-on table
Bernette 64 Airlock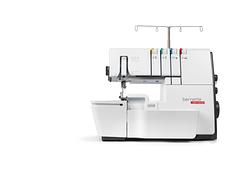 When it comes to specialty overlock machines, the Bernette 64 Airlock is second to none! You'll get all the overlock applications you need in this model, and you'll be able to create as many beautiful edges, hems, and seams as your heart desires.
With the Bernette 64 Airlock overlock machine, the unique features that you'll get are:
Standard overlock foot
16 stitch patterns
Sharing even more functions, though, within the 64 and 68 Airlock models, additional features that you'll get to enjoy are:
4-thread overlock
3-thread overlock (wide/narrow)
3-thread super-stretch stitch
3-thread flatlock (wide/narrow)
3-thread narrow seam
3-thread rolled hem
3-thread picot stitch
2-thread overlock (wide/narrow)
2-thread flatlock (wide/narrow)
2-thread rolled hem
2-thread wrapped overlock (wide/narrow
Micro Thread Control (mtc)
Overlock stitch width 3-7 mm
Bernette 68 Airlock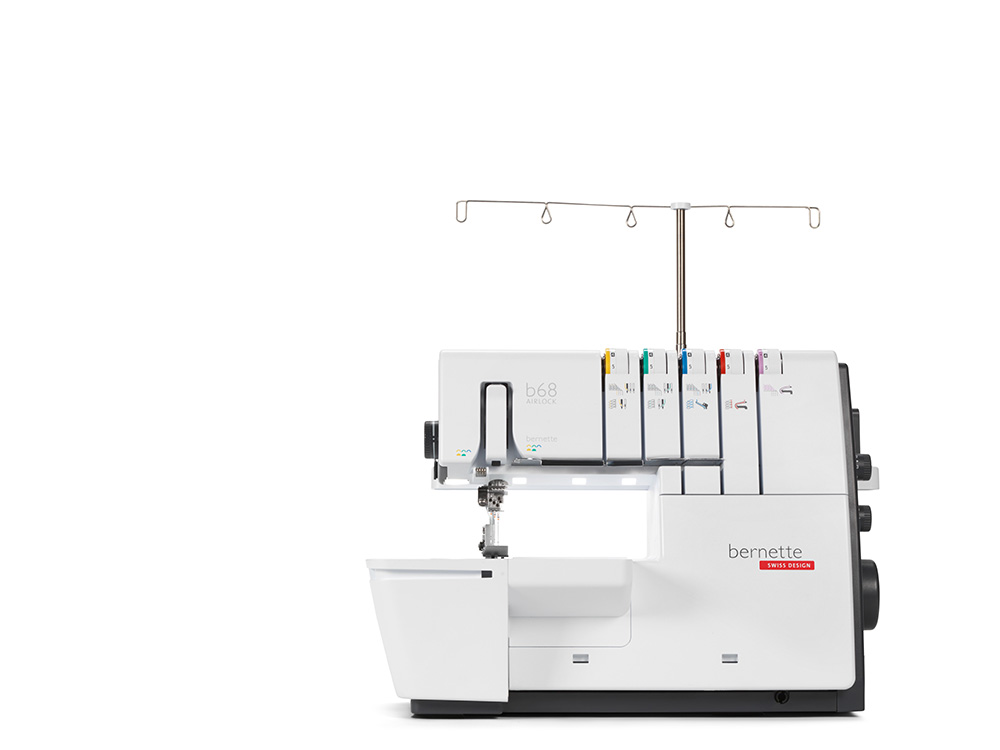 As the third model in the line, this machine is the all-inclusive combination with all the bits and pieces you need! You get overlocks, cover-stitch, chain-stitch, and combo-stitch functions, as well as most of the other features you'd get in the 62 and 64 models.
The Bernette 68 Airlock's unique features that you can't find in other models include:
Combo stitch width 7, 8-12, 6 mm
5-thread safety stitch
4-thread safety stitch
31 stitch patterns
Standard overlock/coverstitch combo foot