If there is one thing sewists and seamstresses seem to run out of constantly, it's space! Sure, needles get lost, fabric yards are cut down to size, and thread spools dwindle with each project, but every facet of the craft has to fit in a space - but not everyone has that much to give up. This is where storage and sewing cabinets come in handy. Most models of today have folding leaves and workspace extensions, but not every cabinet has storage space built in.
That's why we've put together a list of the most storage-centered cabinets that we offer! Find one that fits into the square footage you've dedicated to your hobby and then revel in the added benefits of drawers upon drawers upon cubbies and shelves and bins and spool-holders.
Find yours today at Quilt Quarters!
Dingo Storage Cabinet and Cutting Table
The Dingo Storage Cabinet and Cutting Table is the perfect addition to any sewing station out there with busy needles and nowhere to store them! Plus, it doubles as a cutting table, so that you have double the function in one cabinet. Get your money's worth of storage with 9 drawers of varying sizes (1 large, 1 medium, and 7 small); the largest drawer able to store a standard-sized serger, so you won't have to struggle with finding safe and organized spaces for all your notions, craft tools, fabric, and other miscellaneous sewing gadgets and accessories.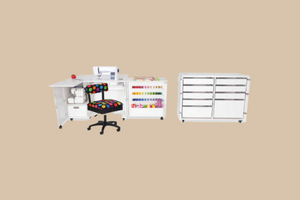 Check it out in Quilt Quarter's store here!
Wallaby Sewing Cabinet
If you're looking for a comprehensive sewing cabinet with plenty of storage and convenience to match, then the Wallaby Sewing Cabinet is for you! This cabinet includes one full-view, soft-closing drawer, a hideaway cubby for bulky storage, and additional built-in storage features that include 33 spool holders and one large door bin.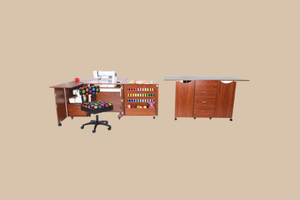 Check it out in Quilt Quarter's store here!
Aussie Sewing Cabinet
Get serious with this signature Kangaroo cabinet and experience the increased workspace flow the Aussie Sewing Cabinet can contribute to your sewing room with a built-in secondary workstation for a second machine and plenty of other additional benefits! The pull-out caddy hosts 2 drawers and a cubby space to store a second machine or bulkier accessories and the cabinet itself has 3 door bins (1 large, 2 small) for notion, thread, and accessory storage and accessibility!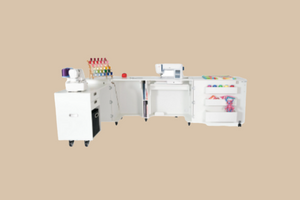 Check it out in Quilt Quarter's store here!
Ava Embroidery Cabinet
As a cabinet designed specially for embroidery, the Ava Embroidery Cabinet gives all the storage, vibration reduction, and convenience that your embroidery project needs. It contains multiple opportunities for storage, boasting 2 shallow, padded, full-extension drawers for hoop storage, 1 deeper drawer for other materials, 4 large shelves that have the ability to accommodate up to 28 thread cones, 1 pull-out thread drawer that accommodates up to 49 standard embroidery spools, and 2 cubbies for any additional storage needs.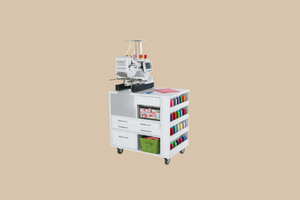 Check it out in Quilt Quarter's store here!
Arrow Cabinet A3501DS
As a staple piece of space-saving sewing furniture, Arrow's A3501DS Cabinets are sure to be a game changer for those with multiple sewing machines but only 1-machine sewing cabinets for storage and use. It's the perfect storage solution for sewists with more than one sewing machine as the 2-tier, heavy-duty cabinet boasts tons of storage space with a removable shelf that, altogether, can hold up to 5 machines. Besides this, however, there are also 2 large, spacious storage drawers for any bobbins, accessories, and tools you might need outside of the machine and a small shelf underneath, too.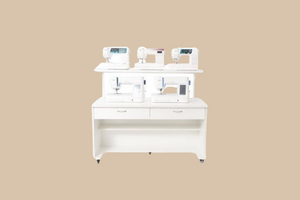 Check it out in Quilt Quarter's store here!
If you're looking for an expansive collection of sewing cabinets and storage solutions, Quilt Quarters - located at 9504 Haver Way, Indianapolis, IN 46240 has over 7,000 square feet and 25 years of experience as Indianapolis's top choice for sewing and quilting needs. Our staff is always looking for opportunities to help, so feel free to reach out! You can fill out a contact form on our website, call us at (317) 757-8340, or visit us in-store from 10am- 6pm during weekdays and 10am-5pm on Saturday. "Sew" you soon!