Needing some more inspiration for your next holiday gift? Look no further, because Quilt Quarters is your one-stop shopping point for all your patterned needs! Now stocking 20 different quilting kits, you're sure not to run out of projects for this upcoming cold winter season.
Even if you're not interested in more Christmas patterns, you're in luck, because there's a variety, with options for everyone with Halloween, Baby Blanket, and other fun patterns available outside of the new Christmas ones. From table runners and placements to Christmas stockings and quilts, something is sure to catch your eye.
Interested in seeing the selection? Check them out below!
Intertwined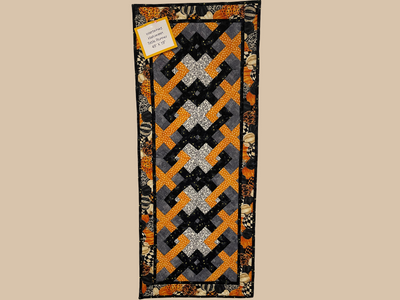 48.5" 20.5"
Enjoy the beautifully balanced look of our new 'Intertwined' Halloween table runner! It's a perfect combination of the fun colors surrounding spooky season outlined with a classic pumpkin border that reminds us of carving jack-o-lanterns with friends, pumpkin pie at Thanksgiving, and setting pumpkin patch finds on a fresh bale of straw as the hayride takes you back around.
Reclaimed Wood Cross
44" x 58"
Explore this unique rendition of the classic Christmas Cross, garnished with a beautiful palette of woody patterns and complementary colors. It's a perfect church display or gift, and would fit right in as an elegant backdrop to your nativity scene! Bring the spirit of the holiday in with this delightful little reminder of the Christmas message.
Around the World - Horton Kindness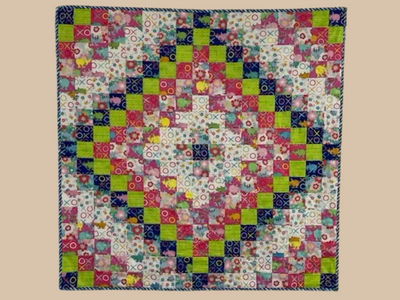 38" x 38"
Put a blast of color in your quilt cabinet with the Horton Kindness 'Around the World' quilting kit. This fun, symmetrical pattern gives you plenty of opportunity to explore the mixing and matching of the included fabric squares to your heart's content. The finished pattern featuring Horton the Elephant is sure to put a smile on your face, whatever you might do!
Around the World - Fisher Price Toys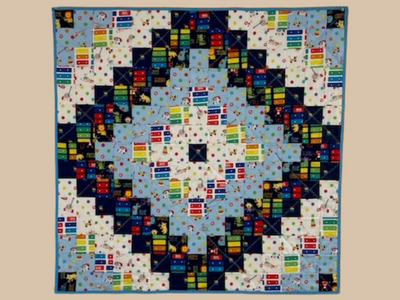 38" x 38"
As another playful pattern set, Fisher Price Toys has again appealed to the young ones in your life with this colorful, engaging pattern. Enjoy the sets of xylophones, popping pushers, the classic Fisher Price play phone, stackable rainbow rings, and other nostalgic pieces that won't just be a staple in the quilt pattern, but also a nod to yours.
Around the World - Christmas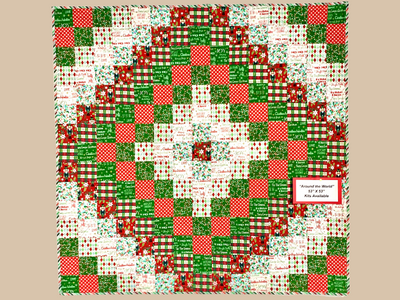 58" x 58"
Make yourself a holly, jolly holiday quilt with the 'Around the World' Christmas kit, complete with all those traditional Christmas colors and brimming with the holiday spirit that surrounds them. With squares featuring little nutcrackers, warm Christmas lights, and bright boughs of holly, you're sure to turn even the biggest Scrooge into Santa with this quilt!
Bright Christmas Table Runner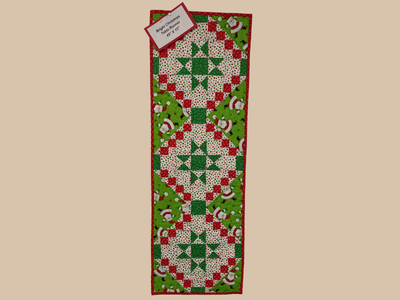 45.5" x 15.5"
Brighten up your Christmas Day dinner with this festive 'Bright Christmas' table runner! With this decorative piece, you'll have a slew of little Santas sitting right there at the table with you! And when he comes around at midnight to pick up his favorite plate of cookies and milk, he'll also be sure to love your latest Christmas project.
All Aboard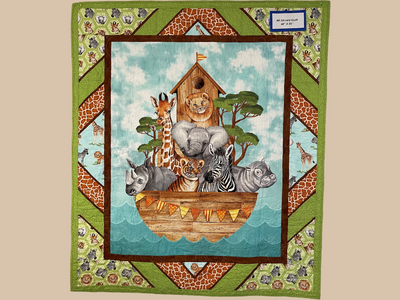 48" x 56"
Here's a fun little craft inspired by Noah's Arc, called "All Aboard" in true fashion of the story. For all the animal lovers out there, kids especially, it's sure to put a smile on their face, seeing all their grinning animal friends on this beautifully patterned quilt!
I'll Be Gnome for Christmas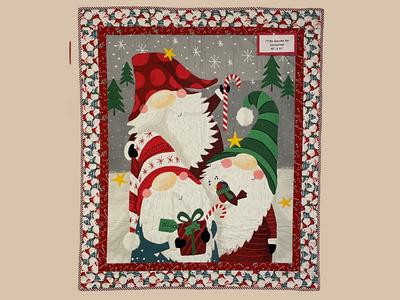 45" x 51"
Are they the Wise Men? Are they carolers? Are they Santa's elves in disguise? Quilt your own narrative to share with friends and family this Christmas! The snowy background and Christmas trees paired with the festive candy-cane border featuring more Gnome friends with their cozy red and green hats creates a perfectly jolly atmosphere for the season!
I'll be Home for Christmas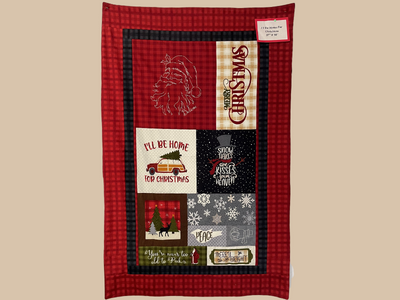 37" x 58"
Sharing a name with that classically cozy Christmas tune, this quilt can only incite feelings of the holidays spent around the people you love, traveling all the miles necessary to reunite, share your gifts and stories of your life, and experience that contented feeling you get from warm companionship and the holiday spirit. As a mish-mash of different sizes and holiday components, you're sure to love this comfy Christmas quilt!
Holiday Jewels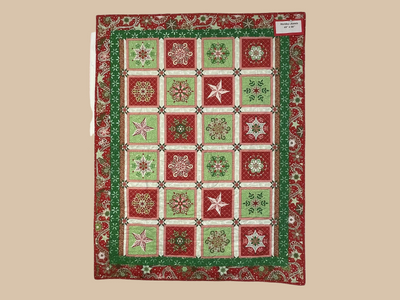 44" x 56"
It's one of the most beautiful quilting kits we have for sale! Enjoy this delicate, ornate pattern that will draw the eye of all your guests. Like a decorated Christmas tree without the tree, this quilt shines, sparkles, and glistens with dazzling designs and comforting Christmas colors. It's sure to put a twinkle in you loved ones' eyes!
Ahoy! Mermaids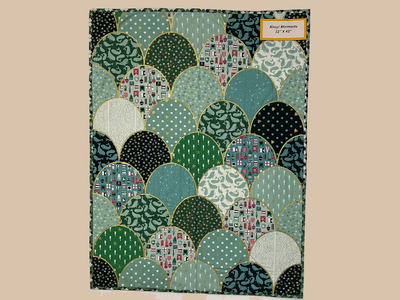 36" x 42"
Gather 'round and explore the maritime fun that this kit brings to the room! Like scales on a fish, each pattern piece gives you another glimpse of the ocean and all the secrets within, bringing you on a colorful, whimsical journey with whales, seahorses, crabby friends, nautical nonsense, and the signs of the sea!
Race Car Table Topper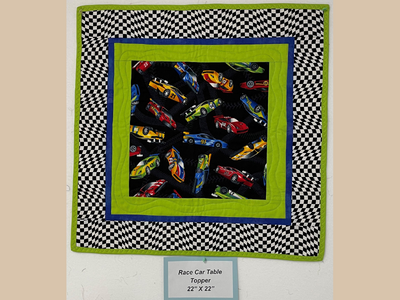 21" x 21"
Start your engines! Well, your quilting motors, at least. This enjoyable little table topper will have racing fanatics of any age captivated! Put it on a kids play table, hang it up as décor, use it as a racetrack - the opportunities are endless, but the work isn't, with the size and simplicity of the design, which makes it a wonderful rainy day project or last-minute gift.
All Set Table Runner & Placemats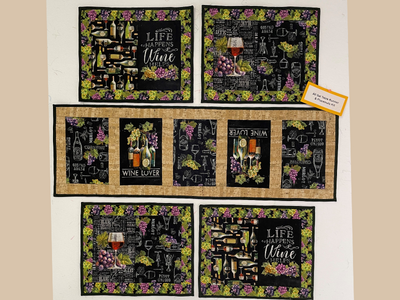 13" x 39" Table Runner, 13" x 16" Placemats
It's wine o'clock somewhere, right? Bolster your next wine night and protect your table with this fitting table runner and placemat combo kit, complete with an aesthetic cork and vineyard grape pattern. As the placemats say, "Life happens, wine helps," and we're firm believers that a nice, matching table set is the cherry on top!
Frisky Picnic (Zen Chic)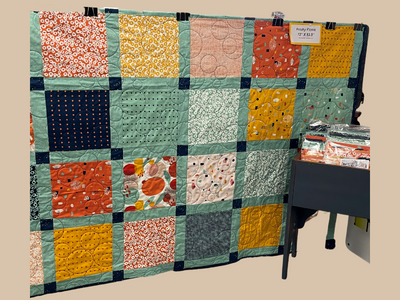 72" x 83.5"
Seek out the ambience of a sweet summer day with the 'Frisky Picnic' quilt! Bubbles, polka-dots, abstract food, and other fun fabrics make up this big quilt that, coincidentally, would be the perfect picnicking quilt to protect you against the ground!
Hope, Strength, Love (Breast Cancer)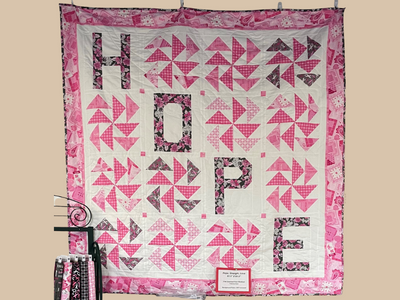 61.5" x 61.5"
Even though October is the official Breast Cancer Awareness Month, we choose to support survivors and those dealing with breast cancer currently year-round. This trademark pink quilt is a lovely reminder of the 'Hope, Strength, and Love' that cancer patients continuously give out despite their condition, and what we give right back to them.
A Cozy Christmas Stocking Panel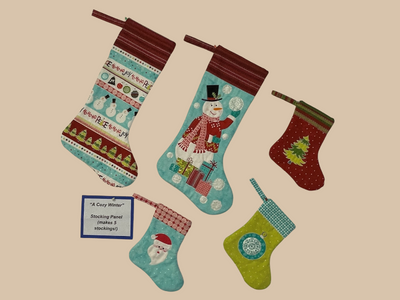 Varied
The perfect Christmas project for all the growing families out there! This panel makes 5 Christmas stockings, 2 large and 3 small, that are all festive fun and wonderfully winter. It's even got an included loop so that you can hang it by the chimney with care when the time comes to be filled with goodies on Christmas morning.
Christmas Baubles - 3 yd Quilt Kit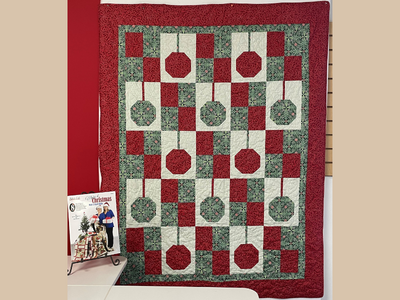 45" x 60"
What's more Christmas-y than a quilt with sewn-in ornaments? It makes for a great wall hanging or a cozy cuddle, and these are the guaranteed unbreakable kind of baubles, so you can enjoy a classic Christmas decoration without children and pets knocking them to the floor! And if they do, the quilt will be just as magnificently beautiful as it was before.
Sew Big Baby Quilts Book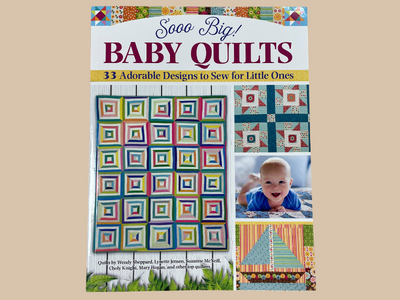 Varied
Get your money's worth with this 'Sew Big Baby' quilting book! You get 33 patterns to create to your heart's content for all the little bundles of joy in your life! You can never go wrong with a homemade baby quilt as a gift at your next baby shower, or in preparation for your own little one - either way, it's always helpful to have a stockpile of patterns!
Crazy Christmas Tree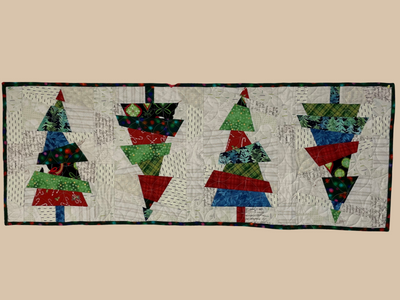 43" x 16"
Get crazy with the 'Crazy Christmas Tree' kit and have your fun with this piece-together quilt that reminds us a little bit of grade-school Christmas tree projects! Except this time, instead of being hung on the fridge before making its way into the trash or a memory box, it gets to stick around however you plan to use it, whether that be as a table runner or otherwise.