We are busy busy busy with our classes this month, and April 22nd has a day full of fun for all! Along with the April Bernina Software Inspirations monthly class, this month, our monthly In the Hoop project falls on the 4th Saturday of the month right after, running from 12:15pm – 3pm.
Buy your tickets here on our website, call us at (317) 757-8340, or sign up in-store with one of our friendly associates!
This time, our project is just as practical as it is pretty! We all know in this technological age, cords get crossed, tangled, and tiresome. If you want a way to keep your electronic cords more organized, join us at Quilt Quarters to make your very own CORD KEEPER! Functional and cute, this project is sew much fun to make!
This project gives you an opportunity to bring your embroidery machine and mingle with other embroiderers as we focus on learning how to do an In the Hoop project. The cord keeper will be created with a vinyl material completely stitched and finished in the embroidery hoop.
The kit for these designs is included with this class's ticket, which is $25, and includes all of the vinyl and stabilizers needed to complete the designs. However, because this project is so customizable, you'll be in charge of bringing your embroidery machine, module, the below mentioned supplies, and a large hoop for the machine (although a Bernina Medium hoop will work as well for one design) to join us for a fun, instructional day with new and old friends alike!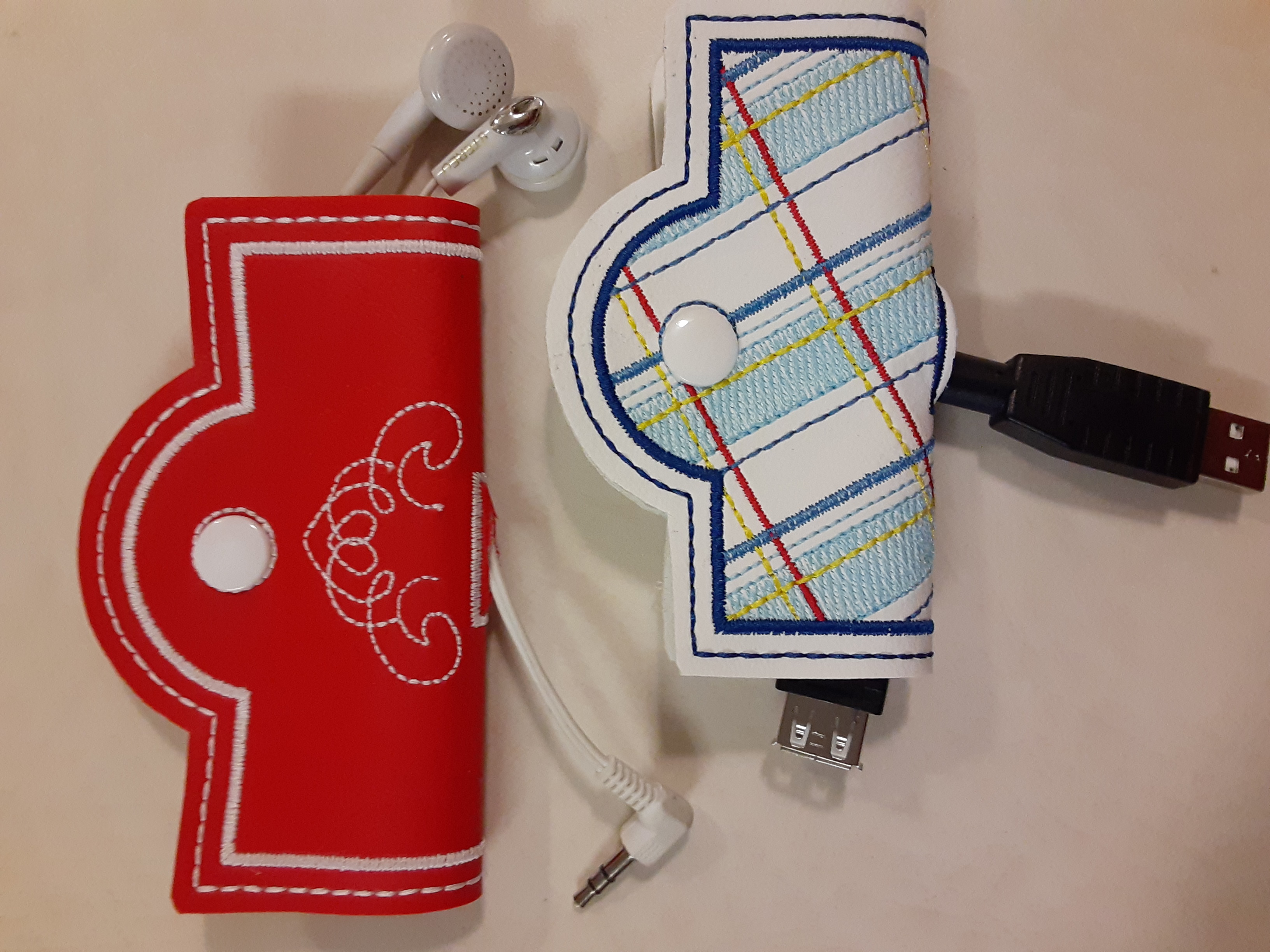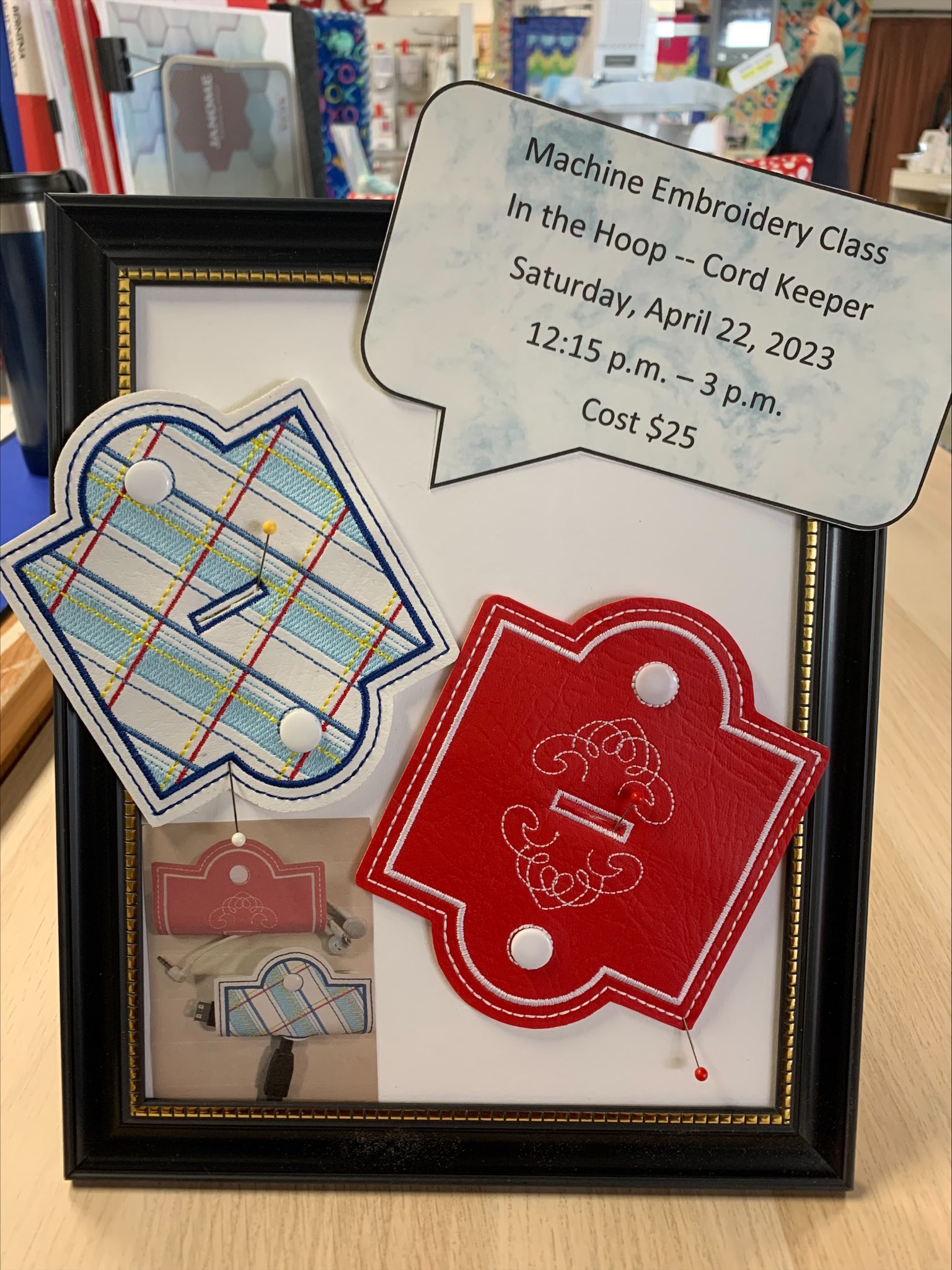 Miscellaneous Supplies
In regard to needles, we ask that you have a new(er), sharp 75/11 embroidery needle in your machine and 2 bobbins filled with white bobbin fill.
Other items you'll need will be a small pair of thread snips or curved scissors, a pair of regular scissors for cutting, and tweezers - which aren't required but might be helpful!
Embroidery Thread Colors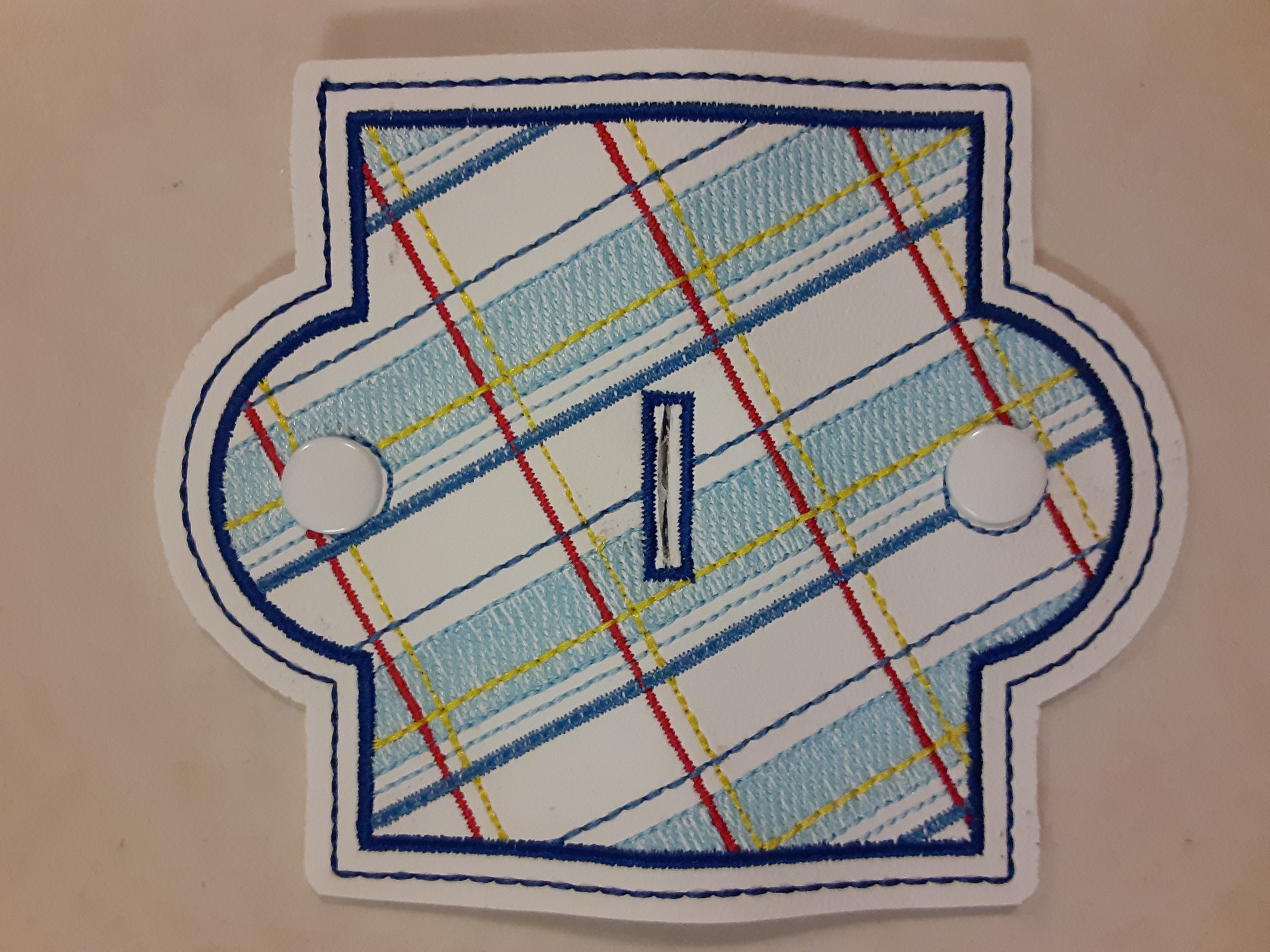 For the plaid keeper, you'll need:
Red
Yellow
Light blue
Ocean/medium blue
Slate/dark blue
Any color combination of embroidery thread that might make a nice plaid palette could be used, though, so let your creativity run wild!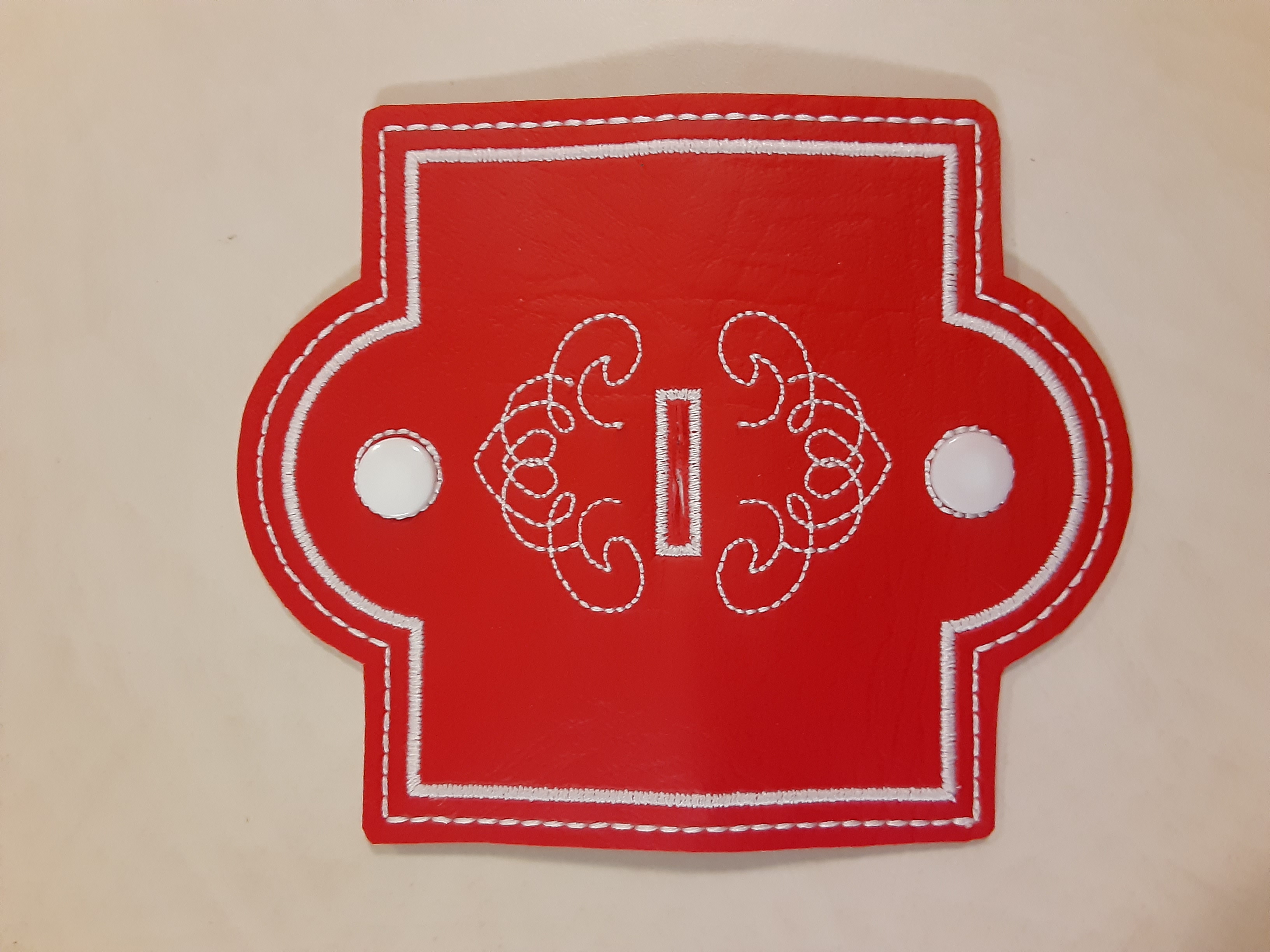 For the second keeper, you'll need:
If you choose red vinyl, then white is a nice, complementary embroidery thread color.
If you would rather have white vinyl, then any thread color will work since it only uses one color! Just be sure to bring an extra bobbin so that it can be filled with the final color of the designs.
A Final Checklist:
Embroidery machine
Module
Large hoop for machine
Sharp 75/11 embroidery needle
2 bobbins filled with white bobbin fill
Extra bobbin for the final color of the designs
Plaid embroidery thread colors
Second keeper embroidery thread color (white or your choice)
Small pair of thread snips or curved scissors
A pair of regular scissors
Tweezers (optional)
In order to keep up with the class, make sure the machine is in good working order if it's been a while since your last embroidery project. Remember, if you're having issues, our staff can help! Machine repair is one of our specialties, so don't be afraid to bring your machine in to get checked out by our helpful and professional staff!
If you're looking for an expansive collection of fabric, notions, classes, and sewing clubs to spark creativity and let your imagination soar, Quilt Quarters - located at 9504 Haver Way, Indianapolis, IN 46240 has over 7,000 square feet and 25 years of experience as Indianapolis's top choice for sewing and quilting needs. Our staff is always looking for opportunities to help, so feel free to reach out! You can fill out a contact form on our website, call us at (317) 757-8340, or visit us in-store from 10am- 6pm during weekdays and 10am-5pm on Saturday. "Sew" you soon!