Starting to get in that Holiday-spirit, gift-giving, quilt-making machine mode? Don't worry - we are, too! Looking around at all our arriving holiday fabric, we just can't help but offer up a some of our best holiday patterns; they're all in the same place, too!
Affording both convenience and quality, Sherri Falls of This & That Pattern Company published a dozen festive quilting patterns ranging from warm and cozy quilts and minis to bright and cheery table-runners and tree skirts. These 12 patterns are sure to be a shortcut to beautiful, jovial gifts for all your friends and family - but we won't blame you if you keep them for yourself either, with just how much we think you'll like them.
But why stop at just telling you? Check out the charming Christmas patterns that "Holiday Wishes: 12 Quilts for a Homemade Holiday" by This & That Pattern Company's Sherri Falls below!
1. Merry Gifts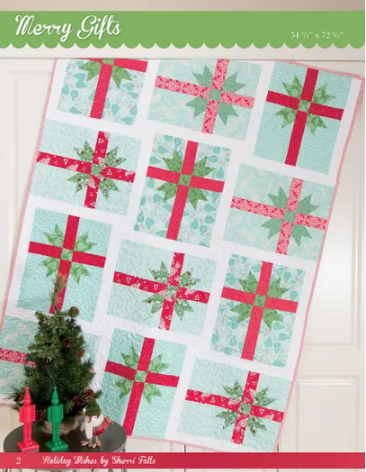 Enjoy this pleasantly 'present'-ed quilt pattern and let the design speak for itself - it's a gift! Add a little cool Christmas colors to the holiday décor or change it up and make it your own! With such opportunity for variety in this pattern, you can stretch the creative limits and include however many colors and individual patterns as you desire!
2. Gingham Stars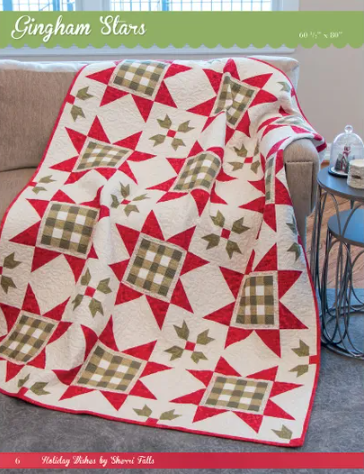 Like a warm, Christmas hug, this pattern and the colors that 'star' in the example photo can really set the mood to festive for your holiday get-togethers where you end up curled under a toasty quilt with some hot cocoa or apple cider. A nice flare of comforting plaid in the midst of classic Christmas-colored gingham stars, this quilt will look just as warm as it'll feel.
3. Norwegian Holiday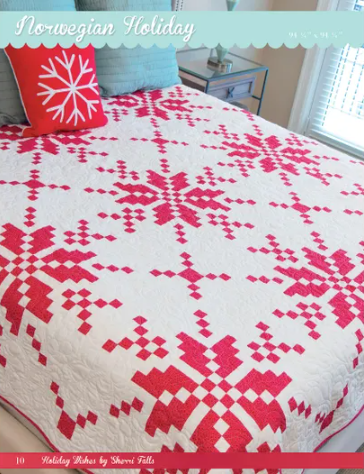 Reminiscent of the snowy nip that reddens your face as you fly down a hill on a sled, this quilt is 'square'ly the definition of a cold winter's day spent doing all the fun things that the snow allows us to do, and the bright laughter and wet stomps of snow-logged boots that always seems to follow.
4. Santa's Socks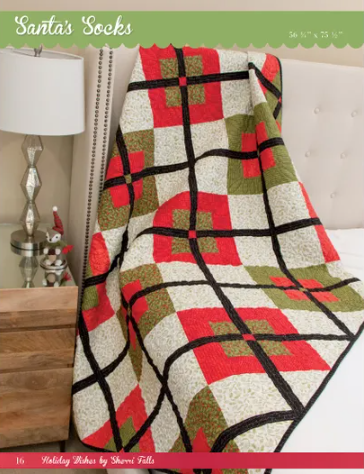 He's likely already making a list by now, too, and probably checking it twice, knowing Santa Claus. It looks like he was generous enough to lend us the design on his socks, though! Get this bold pattern that offers dimension and that trademarked, knock-your-'socks'-off quilted look!
5. Blizzard Tabletopper
A tabletopper that's sure to draw in a 'flurry' of compliments, this pattern is the perfect little snowflake to fall onto your table! Make it in colder hues to incite the brisk, clean, feeling of winter or put your own spin on it and make it as unique as we know each individual snowflake really is!
6. Winter Lights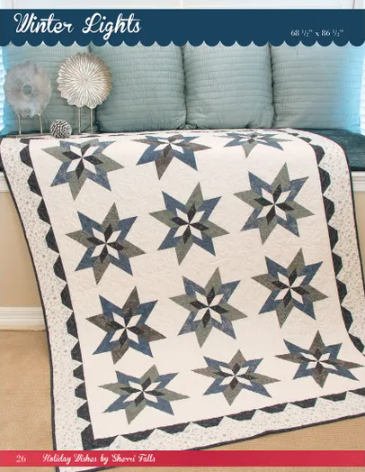 Who doesn't love the spectrum of winter colors? From the peaceful dark blue nights with streetlamps that highlight the contrasting snow to the joyful red and green string lights on storefronts, there's a lot of depth when it comes to the light of the winter. 'Turn on' your imagination and put in all the colors you associate with winter to give this beautiful quilt pattern a personal touch!
7. Deck the Halls Mini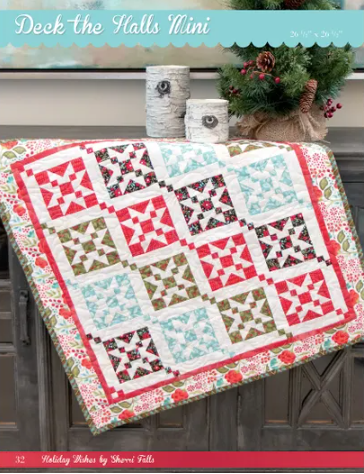 Not looking for a big project? Well, this collection of patterns has something for you, still! In a bright, patterned design, you can have all your loved ones 'bough'ing down in awe of your cute mini quilt, but if you don't plan to keep it, then it makes for a great kids' quilt or decorative hanging, as well!
8. Comfort and Joy Mini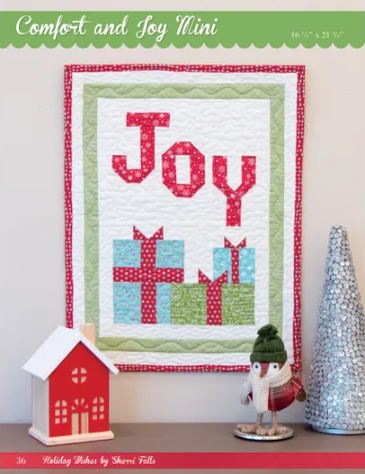 'Joy'n together a classic Christmas saying and song, and make it into a festive 16.5" x 21.5" mini for your holidays! With all the facets of the winter holiday, you have gifts, Christmas colors, and the opportunity for snowflake or Christmas characters in the design as well! This truly is one of the most versatile patterns in the pack!
9. Let It Snow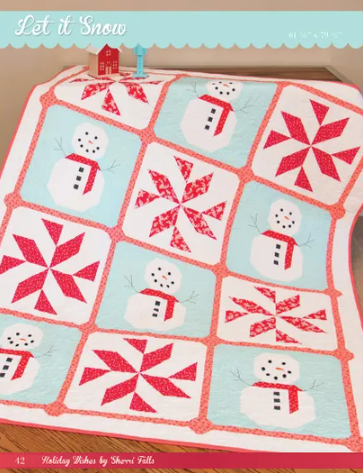 Bright, candy-cane snowflakes and a little Frosty friend - what else could you ask for when it comes to holiday patterns? It's 'snow' secret that building a snowman is a staple of snowy weather, so why not celebrate that in a nice, warm quilt to warm up in after you build the real thing?
10. Snow Happens Tree Skirt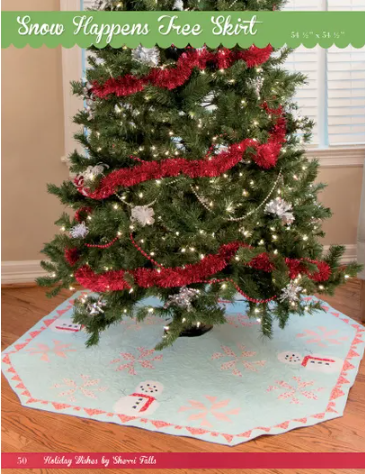 I'm sure we can all agree that the vegetation that many households bring in to 'spruce' up their living rooms can get quite messy, whether they're real or just reusable plastic substitutes, but you can make a solution! Match your Christmas color palette, contribute to your holiday aesthetic, and give yourself the convenient clean-up option of a homemade quilted tree skirt these holidays!
11. All Snowed In Tablerunner
Your guests will be 'running' to the table with this elegantly-patterned tablerunner, this year. Make it to match any holiday tablecloths or placemats and you'll have a pairing that will boost your table setting and distinguish your style! It's an easy way to get into the holiday spirit and put a little Christmas cheer on the table.
12. Midnight Clear Block of the Month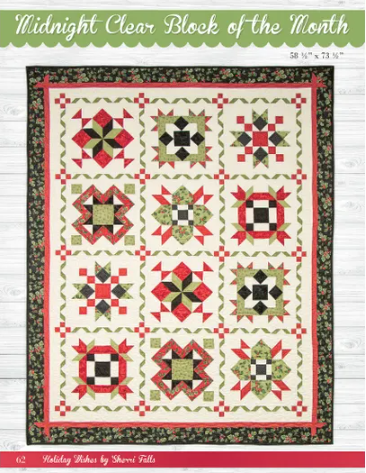 Finally, we've come to the block of the month - and isn't it worth it? With so many different patterns and squares, the opportunity for creativity is limitless! 'Clear'ly we saved one of the most unique patterns for last, and your color and pattern customizations are sure to make each square pop with personality!
If you thought these patterns were as perfect as we do, you can find them online on our website, or call our store at (317) 757-8340 to see if we have physical copies in stock!