All BERNINA Presser feet and Hoops are 25% off December 19 through January 2nd.
The right feet and accessories are the key to producing incredible results with ease. We'd love to help you choose the right accessories for your types of sewing and favorite methods. We've created a compilation of our top 10 presser feet to use with your BERNINA machine. Always check with your local BERNINA dealer to make sure you're purchasing the correct version for your machine.
5.) Automatic Button-hole Foot #3A
Allows you set the length of your button-hole, and it will repeat that setting again and again for perfectly identical buttonholes every time.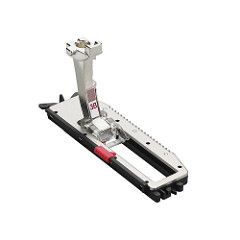 4.) Edge-stitch foot #10 or #10D
Is ideal for top-stitching, hems, and stitching in the ditch.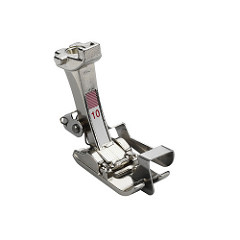 3.) Quarter-inch Foot #37 or #57 or #97
This foot is so handy for quilters. The edge of the foot is a perfect quarter-inch seam allowance.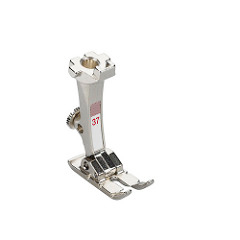 2.)Open Toe Embroidery Foot #20-C-D
Allows you to see the needle penetrating the fabric while you are using decorative stitches.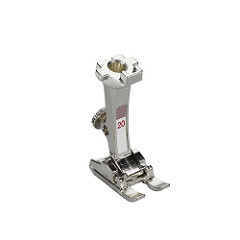 1.) Bernina Stitch Regulator
Using cutting edge feedback technology this foot enables you to keep your stitch length consistent no matter how fast your hands are moving during free motion sewing.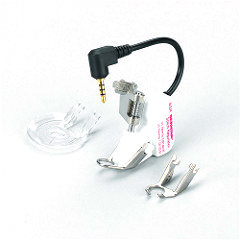 ---
Presser Feet and Hoops Offer Legal
Offer valid December 19, 2017–January 2, 2018 off MSRP at any participating BERNINA Store. Offer applies only to the purchase of new BERNINA Presser Feet and BERNINA Hoops. Not valid on previous purchases or with any other offers or coupons. Some exclusions may apply. Available while supplies last. Participating Stores only. Taxes not included in total purchase calculation. Customer is responsible for all applicable sales tax. BERNINA Presser Feet are defined as accessories that have a number identified with the name, such as, but not limited to, the #37 Patchwork Foot or the #88 Binder Foot. If the attachment goes under the head cover and works in conjunction with a foot, it is a foot.