Mother's Day is this month, and that means different things for all of us! Some of us will be gifting, some of us will be getting, and some of us will be doing a little bit of both. If you've made a card for five years running, why not change it up? Little projects like this are a perfect way to try out a new skill, take it easy and make something uncomplicated, and continue to grow no matter what you do. Plus, whoever will be receiving your handmade gift is sure to treasure it!
For Our Embroiderers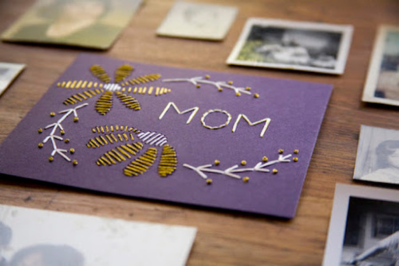 If you're not ready to relinquish you hold on a card-giving tradition, then this embroidered card from How About Orange is the perfect step up for a hangable, frameable, customizable project for the mother in your life to keep and cherish. Since it almost doubles as a wall decoration, it's much sturdier, much more personable, and much prettier than any store-bought card you could get.
The best feature about this card is that you might find yourself liking the free downloadable pattern, but it's a wonderful starting point for other patterns and designs you want to try. As long as you have the right paper, anything is possible!
Find the Embroidered Mother's Day Card on What About Orange here!
For Our Seamstresses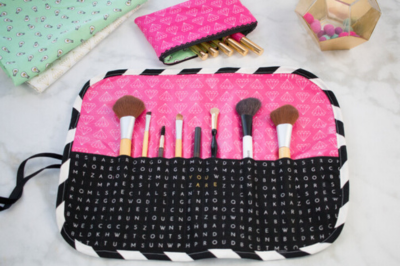 If you're looking for a project that is practical and personable, then this homemade Makeup Brush Roll Bag from Sweet Red Poppy is a perfect mother's day gift to sew! With the protective vinyl layer and a fleece layer that keeps the whole thing sturdy, yet malleable to roll into a space saver no matter where a mother might find herself going, it's a wonderful upgrade from a store card! Get those makeup brushes out of a bag and into the cutest storage roll this May.
Find the Makeup Brush Roll Bag from Sweet Red Poppy here!
For Our Quilters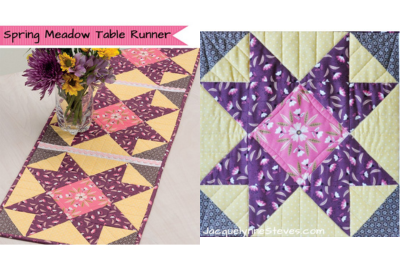 With this Spring Meadow Table Runner from The Art of Home, designed by Jacquelynne Steves and made by Daniela Durham, you can give the gift of a tabletop reset for the summer months! With a fresh, floral pattern, the beautiful colors of this table runner are outlined in the free downloadable pattern but, as with any online pattern, can be switched out to any color or fabric your heart (or mother) desires!
Find the Spring Meadow Table Runner from The Art of Home here!
If you're looking for an expansive collection of fabric, notions, classes, and sewing clubs to spark creativity and let your imagination soar, Quilt Quarters - located at 9504 Haver Way, Indianapolis, IN 46240 has over 7,000 square feet and 25 years of experience as Indianapolis's top choice for sewing and quilting needs. Our staff is always looking for opportunities to help, so feel free to reach out! You can fill out a contact form on our website, call us at (317) 757-8340, or visit us in-store from 10am- 6pm during weekdays and 10am-5pm on Saturday. "Sew" you soon!